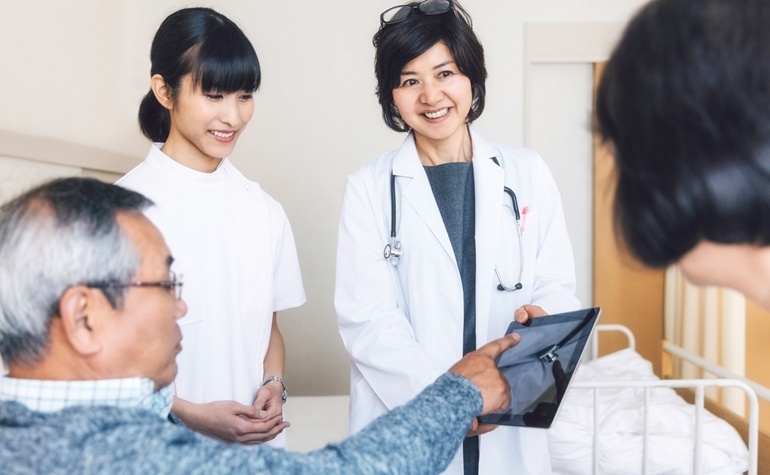 Cultural competency is a strategy organizations can use to "to improve health outcomes, increase quality of care, and reduce health disparities especially among minorities."[1] However, there are many obstacles hospitals face when trying to develop cultural competency programs, which include lack of staff diversity and poor communication, among other issues [2].
In trying to find practical solutions for these challenges, we came across a recent article, A Framework for Cultural Competence in Healthcare Organizations [3], which discusses four main improvement points. We break these down for you below:
1. Make Sure Staff Diversity Reflects Patient Diversity
When providing healthcare to diverse patient populations, it's a good rule of thumb to have a workforce that's equally as diverse, since "minority health care professionals are more likely to understand the needs of minority populations."[4] For instance, if you serve a large Spanish-speaking population, staff should also reflect this racial makeup. This goes for nurses and other staff, as well as executive leadership and members of the board. Since Human Resources is generally responsible for hiring employees, the department should be proactively recruiting and hiring minority staff, as well as language services and diversity staff.
2. Make Sure Vision, Mission and Values are Centered on Cultural Competency
Cultural competency starts with an organization's vision, mission and values. First, senior management should work with organizational governance to create a vision that is cultural competent and determine how to allocate resources to support that vision. Second, the organization should identify its target patient population, create a culturally competent mission, and develop strategies for carrying out the mission. And thirdly, in its values, the organization should "reflect its attitudes and emphasis on cultural competence and its commitment to providing culturally competent care."[5]
*For more information on this topic, read "5 Ways to Put Meaning Behind your Hospital's 'Mission, Vision and Values,'" and see how you can put cultural competency into the mix.
3. Create a Strategic Plan
To promote cultural competency, organizations should "establish a strategic plan that emphasizes the importance of cultural competence training to the overall organization, its employees, patients, and communities served."[6] The planning process (and, ultimately, the plan itself) should include a discussion of goals and priorities, organizational cultural competency strengths, resources for supporting staff education and in-servicing, and how the plan's processes can be maintained over the long term. Once the plan is finalized and put into practice, it's important to regularly evaluate if objectives are being met and whether or not changes need to be made – to this end, forming task forces and committees with the aim of monitoring progress is helpful.
4. Communicate
To maximize the effectiveness of the cultural competency program, organization employees, as well as patients and the general community, should be communicated with about the program using a variety of methods. For instance, cultural competency policies and procedures can be published in employee handbooks, regular cross-organizational workgroups can be formed, and in-language support materials can be posted around the hospital for non-English speakers, along with other processes.
CyraCom's interpretation and translation solutions are exclusively endorsed by the American Hospital Association. With ISO 9001:2008 certified quality processes, US-based medically-trained interpreters, and a dedicated account management team, we are equipped to meet your patients' language needs.
---