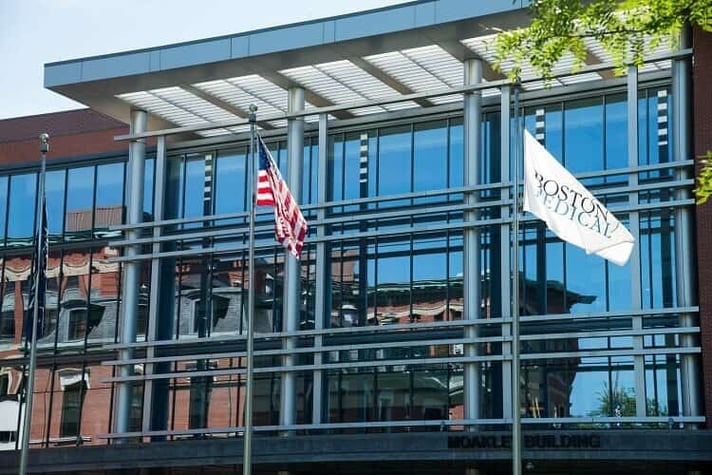 CyraCom recently partnered with Boston Medical Center to create a case study. BMC is a 487-bed academic medical center located in Boston's historic South End and dedicated to providing "consistently excellent and accessible health services to all in need of care regardless of status or ability to pay – exceptional care, without exception."
Boston Medical Center aims to provide their LEP population with the same care as English-speaking patients, and given the volume and variety of languages needed, that means partnering with an outside language services provider. BMC's 65 staff interpreters handle about 25% of non-English-speaking patient encounters, while the remaining 75% use phone and video interpretation provided by CyraCom.
"We care about every single patient," explained Elida Acuna-Martinez, BMC's Director of Interpreter Services. "That's why we partner with CyraCom – we have the same goals."
Acuna-Martinez attended CyraCom's annual Healthcare Language Services Summit in October 2015, meeting industry speakers, language services leaders, and current CyraCom clients from across the country. A month later, BMC became a CyraCom client.
"We started in November of 2015," she noted. "Switching was the best thing we could have done, and I can tell you why:"
1. Efficient Implementation
"CyraCom's implementation team made the process easy," Acuna-Martinez recalled. "We needed 1,200 phones installed and staff training on how to use the service. CyraCom got it done in three days – three very long days, but they got it done. I couldn't believe how quickly they worked."
Today, BMC has increased that number to nearly 1,900 CyraCom phones and 90 iPads for video interpretation.
2. Real-Time Responsiveness
"CyraCom doesn't feel like a vendor," Acuna-Martinez explained. "Their staff act as partners, answering any questions I have and giving advice based on their experience working with hospitals nationwide."
"My account manager checks in all the time just to make sure things are running well," she continued. "We had a question about connectivity the other day – I sent an email and got an answer within seconds. The issue was on our end, but CyraCom helped us solve it."
"Connecting to an interpreter for our most frequently-used languages is faster than what we had before, and CyraCom's reporting is much more efficient. With our previous vendor, I had to wait a month to get reporting and address specific patient complaints – too late to hold anyone accountable. With CyraCom, I can log into the account management portal and see what happened 15 minutes ago."