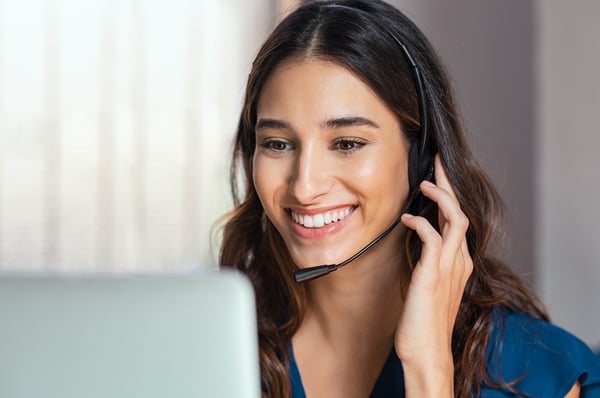 If you're new to the industry or want to review common language services acronyms, CyraCom can help. Here are the key acronyms and terms used in interpretation and translation services.
LEP
This term refers to people who are limited-English proficient, meaning English is not their primary language. LEP individuals do not speak English very well or may not know how to speak English at all.
Between 10 and 20 percent of the U.S. population prefers to speak a language other than English at home. Check out these statistics from the Census Bureau:
In 2017, a record 66.6 million U.S. residents ages five and older spoke a language other than English at home. The number has more than doubled since 1990 and almost tripled since 1980.
In America's five largest cities, 48 percent of residents now speak a language other than English at home.
Of those who speak a foreign language at home, 25.9 million (39 percent) told the Census Bureau that they speak English less than very well.
LSP
Language Services Providers support businesses who need to communicate with LEP individuals. While there are many available options, CyraCom is the leading language services provider. We serve businesses in the healthcare, government, banking, and other industries.
OPI, VRI, T&L
CyraCom offers a variety of language services to our clients. Over-the-Phone Interpretation (OPI) and Video Remote Interpretation (VRI) are our core services. We also provide on-site interpretation as pandemic safety protocols allow. Businesses partner with us to help ensure their clients understand important information.
---
Did you know that CyraCom trains our interpreters twice as long as other LSPs? Besides learning language services acronyms, our interpreters learn vocabulary and terminology specific to the industries we serve.

---
In addition to providing spoken and sign language interpretation, businesses must translate their written documents. Translation and localization (T&L) services are used for this purpose. CyraCom stands out in this space due to our secure translation portal, translation memory database, and high-quality process featuring many checks and balances.
ASA
The Average Speed of Answer is defined as the time between when you select a language, and your interpreter comes on the line. Unlike some other LSPs, CyraCom doesn't start billing our clients until the interpreter joins the call. While a minute or two may not seem like much time, these small increments add up and can cost users a significant amount over time.
IVR
Interactive Voice Response refers to an automated system used to direct phone calls. In some cases, the software is used instead of waiting for a live operator. When clients call CyraCom, the automated interactive system allows them to select a language quickly, collect patient data if required, and connect with an interpreter.
ISO
The International Organization for Standardization (ISO) is an independent organization that certifies that a management system, service, or documentation procedure meets the requirements for standardization and quality assurance. CyraCom was the first major phone interpretation provider in the US to receive an ISO certification. We currently maintain five ISO certifications to show our commitment to delivering superior quality language services.
Learn more about our certifications and awards
SQ FT
We know what you're thinking—how are square feet associated with language services acronyms? CyraCom operates multiple large-scale contact centers that combine to more than 300,000 square feet of space. We provide secure contact centers for our thousands of employee interpreters that successfully pass recurring client audits.
HIPAA, PHI/PII
Ensuring compliance with the Health Insurance Portability and Accountability Act (HIPAA) is of utmost importance for our healthcare clients. CyraCom follows a strict set of guidelines and procedures to maintain the confidentiality of Protected Health Information (PHI) and Personally Identifiable Information (PII).
Our employee interpreters keep no physical or digital records of the content discussed during calls. Shorthand notes are taken on whiteboards throughout the call and immediately erased after disconnecting.
1557
The Affordable Care Act (ACA) includes Section 1557, which prohibits discrimination based on race, color, national origin, sex, age, or disability in certain health programs or activities. Healthcare workers use language services to provide better support to LEP individuals and comply with federal laws.
Section 1557 builds upon decades of regulations mandating language services, including:
Title VI – Civil Rights Act (1964)
Americans with Disabilities Act (1990)
Health Insurance Portability and Accountability Act: HIPAA (1996)
Executive Order 13166 – OCR Policy Guidance (2000)
Affordable Care Act (2010)
Why you should know and understand language services acronyms
Why does all this matter? Businesses that rely upon language services providers need to be aware of interpretation and translation terminology. This helps to ensure their clients receive quality services. No matter which language a person speaks, they deserve to understand important information shared with them by healthcare, government, banking, and other providers.
Are you looking for a language services provider you can trust? We can help. Contact us at getstarted@cyracom.com to learn more.