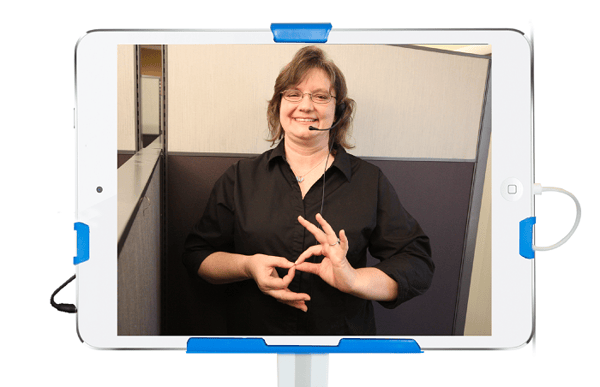 Lifebridge Health is a Baltimore-based health system comprised of four major hospitals. The system employs more than 11,000 people and sees nearly 150,000 ER visits annually. And with 9.7% of Baltimore residents speaking a language other than English, roughly one in ten Lifebridge patients may need a professional interpreter to receive effective treatment.
To increase access and control costs, Lifebridge partnered with CyraCom to roll out video remote interpretation (VRI) in 2018. The result: tens of thousands of dollars saved, and a 90% reduction in wait times for an interpreter.
The following is an excerpt from our brand new Lifebridge Health case study, explaining how Lifebridge manages a smooth, technical rollout for VRI:
Lifebridge leadership brought in Margeaux Anderson, an operations and strategy consultant specializing in process improvement and organizational change, to make the transition to video interpretation a smooth one.
Anderson and CyraCom worked with Lifebridge's executive committee and project team to develop a five-phase rollout of video interpretation system-wide:
1. Conception and Initiation focused on the development of the project charter, identifying what was already working, and targeting what needed to be developed.
2. Definition and Planning consisted of budgeting for the project, including allocating funds to purchase video remote interpreting equipment. The team also decided on key milestones for the project and set deadlines to achieve them. Finally, they brainstormed potential challenges or obstacles they might encounter during the rollout, so that Lifebridge leadership could be informed and decide how to respond.
3. Launch and Execution involved taking VRI live across Lifebridge's four hospitals, as well as setting key performance indicators (KPIs) for the new technology.
4. Measure and Control meant comparing the results of the new VRI system to the goals Lifebridge set, helping the team to determine whether they had achieved their objectives.
5. Project Close gave Anderson and the Lifebridge team time to assess the project for lessons learned, things that went well, and opportunities to do better in the future. They also wrapped up any items left undone during the rollout and compiled reporting on their results.
Are you considering bringing VRI to your hospital or healthcare organization to improve response times for LEP patients and control interpreter costs? Download our full Lifebridge case study to learn how they did it—then reach out to info@cyracom.com for more information.