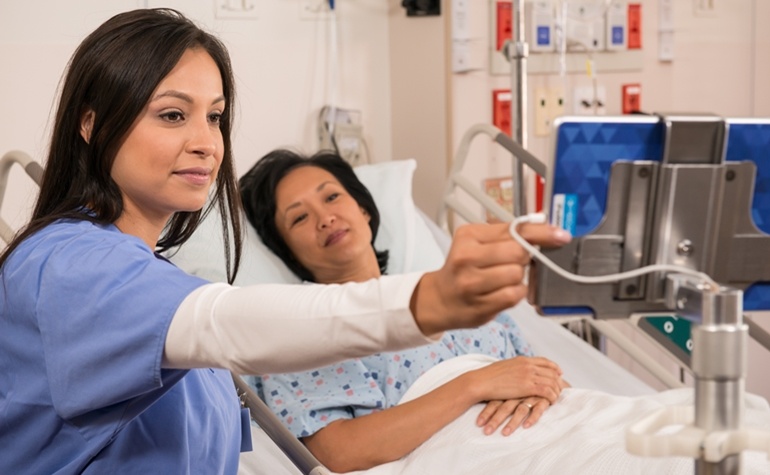 As a language services leader, you understand the importance of the work you do. CyraCom's new e-book goes further, explaining ways to make your program stronger and the tangible benefits of doing so. Here's an excerpt:
Shifting US demographics put language services in a strategic position to boost hospital performance. Experts say the foreign-born American population will double by 2050 – from 40 to 80 million people. More immigrants are coming from Asia, and they're linguistically diverse.
Hospitals that invest in this population today may benefit for decades to come. Here's how:
1. Staff Adoption of Language Services May Improve Patient Safety
The Joint Commission classifies doctor/patient communication as "a core component of health care." So limited-English proficient (LEP) patients face elevated risks when hospitalized:
- The Journal for Healthcare Quality learned that LEP patients suffer medication errors and lack of informed consent due to staff failing to use an interpreter.
- The American Academy of Pediatrics found that non-English-speakers suffer more adverse events and longer hospital stays.
- A review of 10.7 million Medicare records identified medical misunderstanding and miscommunication as the main driver of unnecessary readmissions.
2. IMPROVED INTERPRETATION QUALITY MAY REDUCE READMISSIONS
The Affordable Care Act mandates that hospitals cut unnecessary patient readmissions, and clear staff/patient communication is an important factor.
Missing this metric carries serious consequences – in 2015, more than 2,600 facilities nationwide failed to meet the ACA's readmissions requirements. They now face Medicare reimbursement penalties totaling $420 million in 2016.
The Center for Medicare & Medicaid Services (CMS) estimates that avoidable readmissions cost Medicare $17 billion a year because patients do not:
- Understand their diagnosis.
- Know which medications to take and when.
- Receive important information or test results.
- Schedule a follow-up appointment with their doctor.
- Get adequate care at home.
For LEP patients, a great language services program may prevent these misunderstandings and reduce readmissions.
3. Great Language Services May Boost Patient Satisfaction, Growth, and Retention
Today, potential patients have access to information, and they are likely to "shop" for a hospital. Since patients increasingly behave like customers, consider the impact professional interpreters have on customer satisfaction:
The International Customer Management Institute (ICMI) found that adding language services:
- Improves satisfaction with customer support – 72% of respondents.
- Impacts customers that prefer a language other than English positively – 70%.
- Increases loyalty to the brand – 58%.
Quality language services may boost patient satisfaction metrics like HCAHPS, where most of the questions relate to doctor/patient communication. Better surveys from LEP patients mean a better reputation online and in the community, building patient growth and retention.