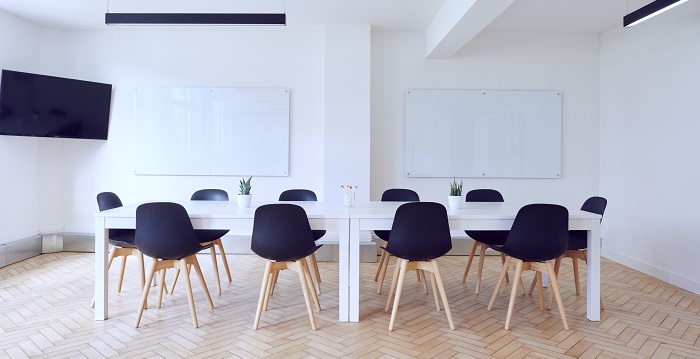 As a language services leader in healthcare, you understand why access to qualified, professional interpreters and translators matters. Make sure your executive team understands as well by demonstrating your department's impact on these critical metrics. Your leadership is more likely to provide you the autonomy, budget, and support you need to excel once they understand what their investment can yield.
As the leading provider of language services to hospitals and healthcare organizations, CyraCom recently developed a brand-new whitepaper, Executive Priorities in Healthcare and the Impact of Quality Language Services.
We've written about how Joint Commission compliance and readmission rates are impacted by quality language services. Today, let's take a look at two additional executive priorities: HCAHPS scores and CMS hospital star ratings.
HCAHPS Scores
Why it Matters to Executives
Large systems stand to gain or lose significant reimbursements based on their HCAHPS scores. 2% of annual Medicare reimbursement depends on hospital performance, and HCAHPS determines 30% of that performance rating.
The Role of Language Services
Providing LEP patients with rapid access to quality interpretation services may improve hospital HCAHPS scores. These patients tend to rate hospitals worse than their English-speaking counterparts due to communication challenges. LEP patients are:
- 9x more likely to have trouble understanding a medical scenario
- 4x more likely to misunderstand medication labels
- 4x more likely to have a bad reaction to medication
The National Center for Biotechnology Information (NCBI) has concluded that patients who speak a different language than their providers report worse interpersonal care and are more likely to rate providers poorly when surveyed. But NCBI also learned that:
"Hospitals with greater cultural competency have better HCAHPS scores for doctor communication, hospital rating, and hospital recommendation. Furthermore, HCAHPS scores for minorities were higher at hospitals with greater cultural competency on four other dimensions: nurse communication, staff responsiveness, quiet rooms, and pain control."
"Quality of interpretation correlates with patient understanding and satisfaction with the encounter," whereas relying on untrained bilingual individuals to interpret "appears to have many negative clinical consequences including reduced trust in physicians [and] lower patient satisfaction."
CMS Hospital Quality Star Ratings
Why it Matters to Executives
A hospital's Center for Medicare and Medicaid Services (CMS) Overall Hospital Quality Star Rating may impact perception and reputation of the organization, both locally and nationally. A poor rating may lead potential patients to consider other facilities for non-emergency procedures, impacting a hospital's bottom line.
The Role of Quality Language Services
Hospitals with a high percentage of LEP patients may find that improving these patients' experience boosts CMS star rating. LEP patients readmit at higher rates and report lower patient satisfaction than their English-speaking counterparts – both critical factors in determining a hospital's CMS star rating.
Patient mortality and safety comprises 44% of a hospital's total CMS score. Statistically, non-English speaking patients experience an outsized percentage of adverse events, longer hospital stays, and misunderstandings, resulting in unnecessary and potentially counter-productive treatment.
The Journal for Healthcare Quality has concluded that adverse events occur more frequently when hospital staff fail to use an interpreter with every LEP patient. Hospitals may improve utilization by making their language services programs: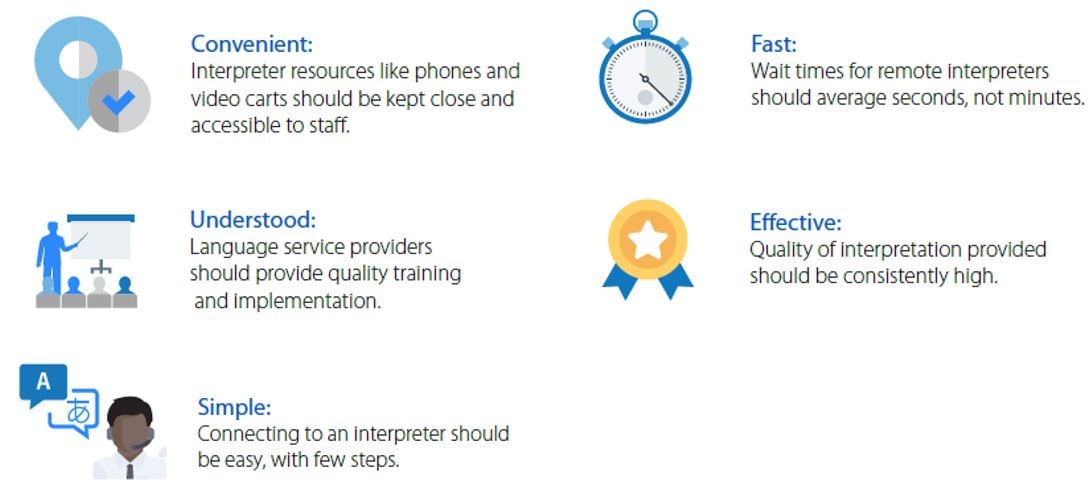 Download the full whitepaper to learn more about how a quality language services program impacts executive-level priorities: