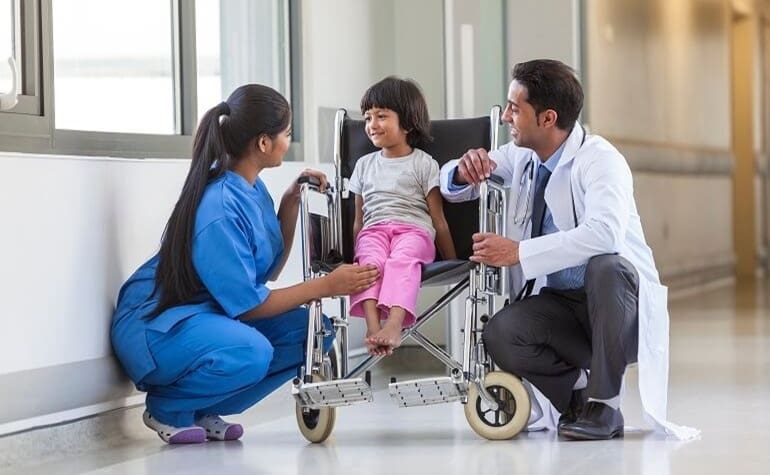 The Center for Medicare and Medicaid Services (CMS) released their much-discussed Hospital Star Rating system in July of 2016. Designed to increase transparency and allow patients to make an informed decision about which hospital to utilize, the new program raised questions among hospital leadership: How are these star ratings determined? Do they represent a fair assessment of hospital performance? How can hospitals improve their ratings?
As a leading provider of language services in healthcare, CyraCom partners with hospitals nationwide to provide equitable care to limited-English proficient (LEP) patients. These patients may impact hospital metrics which determine star ratings, such as:
Mortality/Safety of Care - 44% of the Overall Star Rating
The Joint Commission classifies doctor/patient communication as "a core component of health care." Due to the language barrier, limited-English proficient (LEP) individuals face elevated mortality and patient safety risks when hospitalized: more adverse events, longer hospital stays, and medical misunderstandings resulting in unnecessary or even counter-productive treatment.
The Journal for Healthcare Quality studied the disparity in outcomes and concluded that adverse events are often caused by hospital staff failing to use an interpreter with every LEP patient.
Some language service programs enlist support from their executive teams to enact programs and training that promote consistent use of interpretation services. Regular, effective staff training for everyone who interacts with patients may also improve staff adoption and utilization of interpreters.
Steward Health Care's Director of Diversity Services Carla Fogaren told CyraCom that this kind of training can make all the difference:
"We provide a lot of continuing education - over 12,000 staff, in-person, in one year. With sufficient training, we can hold staff accountable for properly utilizing our interpreter staff, as well as CyraCom's dual handset blue phones"
In addition to training, interpretation services should feature user-friendly access methods, physical accessibility, and high-quality, consistent interpretation, as staff will likely avoid interpretation services they find annoying, inconvenient, or low-quality. CyraCom believes that staff satisfaction with an interpretation service correlates strongly with compliance and that patients will reap the mortality and patient safety benefits of this increased utilization.
"It's not just about choosing a vendor," Fogaren noted. "Anyone who connects directly with our patients represents our organization, so they need to understand the quality of care that we provide."
Factors when choosing a language services partner to maximize staff adoption:
- Convenience: Interpreter resources like phones and video carts should be close and accessible to staff.
- Support: Language service providers should provide quality training and implementation.
- Simplicity: Connecting to an interpreter should be easy, with few steps.
- Speed: Staff should wait seconds, not minutes, on average, for a remote interpreter.
- Effectiveness: Quality of interpretation provided should be consistently high.
Want to learn more about how CMS star ratings are calculated and the impact of LEP patients and quality language services on mortality and patient safety and other measures of hospital performance? Download the full CMS Star Ratings Whitepaper here.