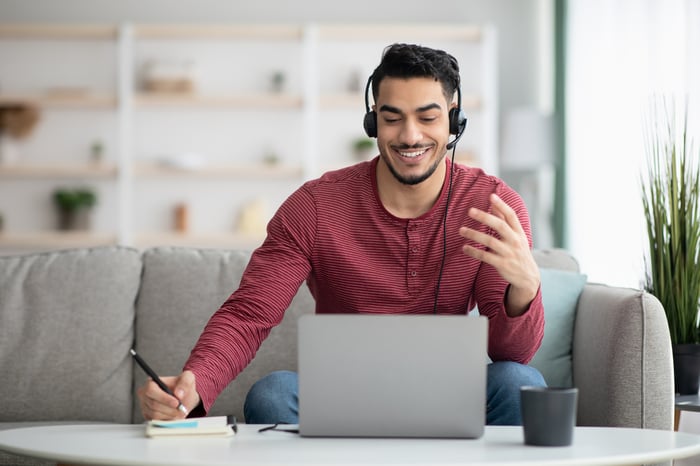 Virtual meetings have become an essential part of the "new normal" following the COVID-19 pandemic. While you probably have learned how to navigate socially distanced online meetings, you may also have some lingering questions about working with a remote interpreter. Here are a few tips to help you be more confident and have a more meaningful discussion.
1. Select the best remote interpretation method
Whether you choose phone or video remote interpretation will depend on the situation and the limited-English proficient (LEP) person's needs.
Option A: Over-the-phone interpretation
Over-the-phone interpretation (OPI) has fewer equipment requirements, more language options, and faster connection times. However, this option may seem impersonal or face some communication challenges if visual cues are relevant to the conversation.
Option B: Video remote interpretation
Video remote interpretation (VRI) is best for connecting with LEP individuals who feel more comfortable viewing their interpreter, including people who are a part of the Deaf and Hard of Hearing community. There are also typically fewer spoken languages offered—verify availability for the language you need in advance.
2. Test your equipment & get organized
If you are hosting a video meeting, get ready before the call starts:
Teleconference calls can drain your device's battery, so charge the equipment you plan to use up to full power or plug it in.
Gather the accessories your phone, tablet, or laptop may need, such as a headset or speakers for enhanced sound.
Teleconference calls require a strong internet connection. Otherwise, your streaming video or audio may cut out. Make sure you have a strong internet connection before you set up a call.
Move a light source in front of you so that your face is not cast in shadow.
If you are legally required to provide language services, you'll most likely need to document the session. Open the client/patient file and other documentation records so that you can quickly enter the interpreter's ID number and any additional information you need to record.
Know ahead of time how you plan to access an interpreter.


For a phone interpreter, have:
- The phone number to CyraCom (given to your organization—contact your account manager for more info)
- Or the CyraCom Interpreter App along with your username and password
- Your account number and PIN, if needed (this can be an automated process. Ask your account manager for more information)
For a video interpreter, have:
- The CyraCom Interpreter App or browser open to video.cyracom.com
- Your username and password
- Your account number and PIN (which can be saved into your account ahead of time)
For a video interpreter to join your telehealth or teleconference meeting, have:
- The invite link for your teleconference platform meeting
- Your browser open to connect.cyracom.com
- Your username and password
- Your account number and PIN (which can be saved into your account ahead of time)
3. Use best practices while interacting with your interpreter
Once the interpreter has joined your call, you'll want to:
Speak in the first person: When you say something like, "Ask the patient what symptoms she's experiencing," the interpreter will repeat the exact phrase. This can be confusing for the LEP person. Instead, you would say, "What symptoms are you experiencing?"
Use short, complete sentences: Interpreters rely on short-term memory and note-taking. The briefer your message is, the less likely the interpreter will need to ask you to repeat yourself.
Avoid metaphors and slang: Interpreters convey the meaning of your words rather than literal word-for-word changes, but this becomes more difficult when you use jargon or idioms. Using simple language helps avoid cultural or linguistic challenges.
Enunciate your words: Remote interpreting can be a challenge due to background noise. In addition to choosing a quiet space for your meeting, be sure to speak clearly at a slow-to-medium pace.
Are you looking for more remote interpreting best practices?
Contact our team at getstarted@cyracom.com for more information about remote interpreting and other language services offered by CyraCom.