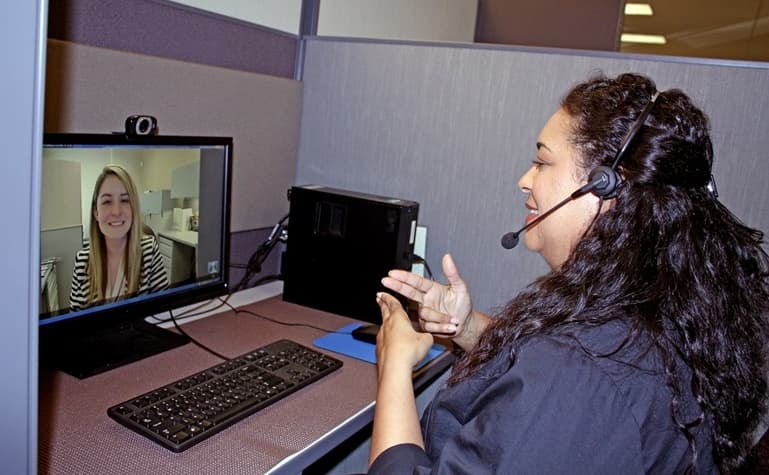 Miscommunication between the Deaf and hearing, especially during medical emergencies, can lead to disastrous results. The current pandemic has made these challenges more apparent, as news articles report on the Deaf and Hard of Hearing's (DHOH) struggle to receive effective medical care during the COVID-19 outbreak. If your facility is not yet using video interpretation, American Sign Language (ASL) video interpreters are a safe, cost effective way to facilitate care to this patient group.
THE CHALLENGES
Deaf individuals rely on interpreter's facial expressions, which are a vital part of Deaf and Hard of Hearing communication. Hospitals often either hire staff ASL interpreters or rely on local agencies to provide on-site interpretation to their DHOH patients. Many hospitals, however, have had to furlough their on-site interpreters or cancel agency appointments to increase social distancing and prevent further spread of the virus.
In addition, hospital staff now must wear masks that cover their mouths, which may hide facial expressions and prevent patients from lip reading. While not all Deaf and Hard of Hearing individuals lip-read, masks can present communication barriers to those who rely on facial cues for comprehension.
Some companies have worked to combat this issue by creating transparent masks, which offer a clear mouth panel so patients can see health providers' facial movements. Medical-grade transparent masks are in short supply, however, and can be costly. These advances show promise, but have not yet become widespread enough to support the current pandemic.
THE SOLUTION: USING REMOTE INTERPRETATION TECHNOLOGY
A timely and cost-effective alternative is video interpretation. Hospital staff can use any device, such as a smart phone or tablet, to call for an ASL interpreter through a secure video platform. In addition to being certified in ASL, ASL video interpreters provide the facial cues and expressions needed to help facilitate communication between staff and DHOH patients.*
A video interpreter can be available in seconds to help your staff communicate with DHOH patients. An on-site interpreter may be assisting another patient or a local agency interpreter may have to travel to your hospital, which can cause delays in care. During this time of crisis, it is imperative that staff and patients have interpreters available and ready to interpret at all times.
Video interpretation can also create cost savings. An on-site agency interpreter typically charges an hourly rate with a two-hour minimum, and usually charge a travel fee. Remote interpretation cuts costs by only charging for the minutes used.
CYRACOM IS HERE TO HELP
We are committed to partnering with you, and have developed language access resources specifically for the Deaf and Hard of Hearing communities you serve.
We've used current CDC Guidelines to create an educational video in American Sign Language to give an overview of Coronavirus (COVID-19), symptoms to look out for, and how you can help stop the spread.
This video (and other resources) can be linked or embedded to share with your facility and community.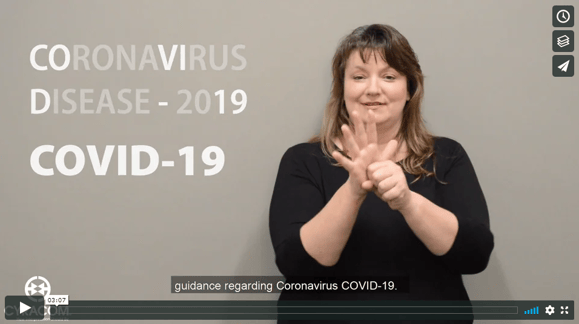 Please contact us so we can learn more about the challenge you might be encountering. Connect with us through our website or by email at getstarted@cyracom.com.
*Please note that some Deaf or Hard of Hearing patients may not communicate with ASL. They may use other methods such as Signed English, the Rochester Method, or home signs. A professional ASL interpreter should be able to determine whether a deaf patient is proficient in ASL. See our blog post here to learn more.