With more than 60 million US residents speaking a language other than English at home, most major health insurers partner with a dedicated language services provider to make sure non-English speaking members receive the support they need and deserve.
And a majority of the top ten health insurance providers in the US choose CyraCom.
Who CyraCom Is
CyraCom provides remote language services, including:
| | | |
| --- | --- | --- |
| | | |
| Phone Interpretation | Video Interpretation | Translation and Localization |

CyraCom understands what health insurance providers like yours need: we serve eight of the top ten largest health plans, and our rates are among the most competitive in the industry.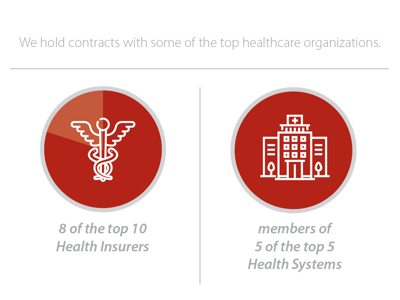 Here are a few reasons why health plans prefer CyraCom:
Quick Connections for Reduced Average Handle Times
CyraCom connects your agents to interpreters fast - in seconds across all languages. Part of that is our streamlined connection process, designed to eliminate unnecessary steps and help to shorten calls.
Our company also invests in a dedicated workforce management team to monitor call volumes and schedule employee interpreters in times when client demand is highest. This helps prevent your agents and members from waiting for an interpreter to become available, keeping Average Handle Time in check for non-English calls.
Trained, Professional Interpreters for Improved Member Satisfaction and First Call Resolution
Unlike many competitors in the language services industry, CyraCom hires thousands of employee interpreters.
Why does that matter?
Unlike independent contractors, employee interpreters can be lawfully trained, and we provide each employee interpreter with 120 hours of dedicated, in-person classroom training before they start taking your members' calls. Our standardized training teaches accurate and complete interpretation best practices, and that these results are likely to improve your member satisfaction among non-English speaking members.
Interpreter accuracy and accountability may also improve your First Call Resolution rate for members who don't call in English. The better these members and your agents understand one another, the more likely the issue is to be resolved on the very first call. And that understanding will largely depend on how well interpreters convey messages from one language to another.
Third-Party-Verified Security and Quality Processes for HIPAA-Compliance Assurance
The International Organization for Standardization (ISO) is an independent international organization that develops and publishes standards to support innovation and provide solutions to global challenges.
CyraCom holds certifications for the following ISO standards:
ISO 27001:2013 - Information Security Management
ISO 9001:2015 - Quality Management Systems
ISO 13485:2016 - Medical Device Translation
ISO 17100:2015 - Translation Services
We also follow guidelines for ISO 13611:2014 - Guidelines for Community Interpreting
For the provision of most services, CyraCom does not obtain, record or store client data. However, there may be times when client data may be retained. This data is encrypted at the host level in alignment with OWASP Standards. All data backups are also encrypted with restricted access. In addition, we regularly conduct internal and external audits of our network security.


Ready to learn more?