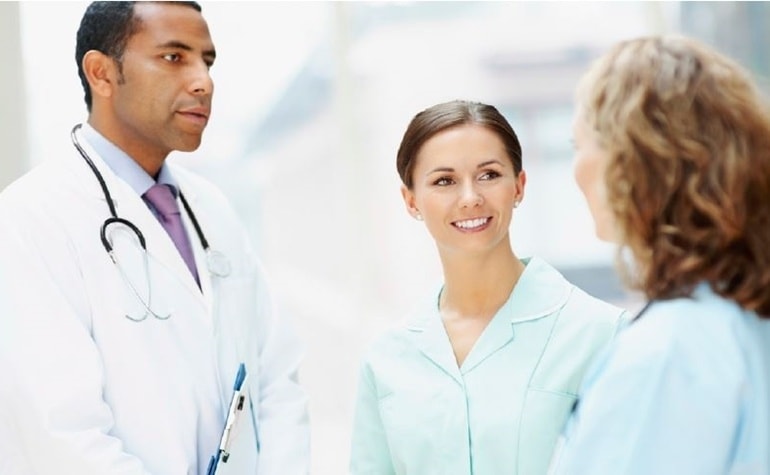 The Center for Medicare and Medicaid Services (CMS) released their much-discussed CMS Overall Hospital Star Ratings system in July of 2016. Designed to increase transparency and allow patients to make an informed decision about which hospital to utilize, the new program raised questions among hospital leadership: How are these star ratings determined? Do they represent a fair assessment of hospital performance? How can hospitals improve their ratings?
As a leading provider of language services in healthcare, CyraCom partners with hospitals nationwide. We've created this guide to help providers understand how CMS Star Ratings work – and how a quality language services program may impact key CMS metrics like mortality and safety, readmissions rates, and patient satisfaction, improving a hospital's overall rating.
CMS's original Hospital Compare web site, released in 2005, featured 10 core processes of care measurement. Since then, the list has grown substantially, adding: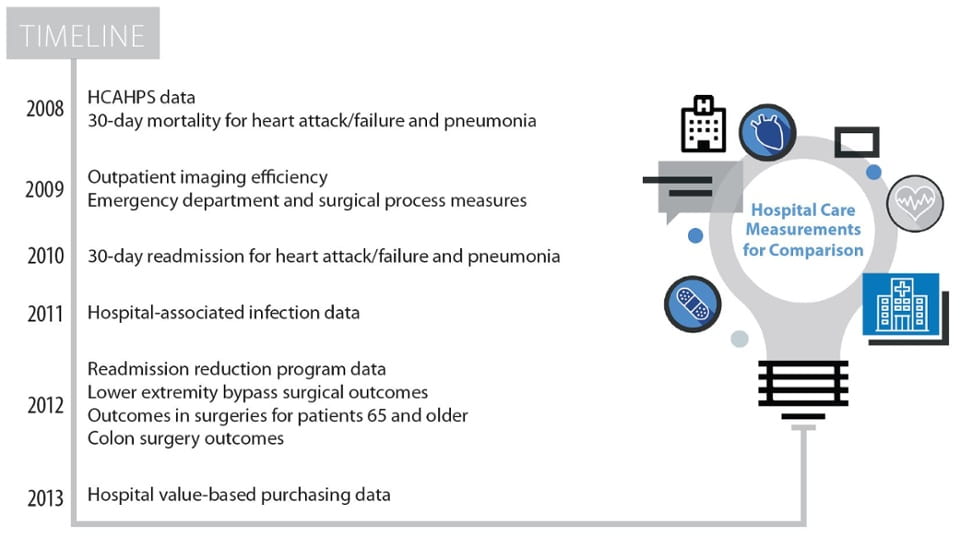 By 2016, Hospital Compare included over 100 measures of comparison, available online for potential patients to review. CMS then sought to simplify the hospital comparison process by creating the Overall Hospital Quality Star Rating. This new measure would incorporate various Hospital Compare scores to assign each hospital a single rating – from one to five stars.
The Formula
1. CMS Hospital Compare collects over 100 measures of data from hospitals.
2. 57 of these measures are used to determine a hospital's star rating.
Why not all 100+? Some are duplicative, some apply to only a small number of hospitals, and others were considered relevant when collected but no longer apply.
3. The 57 relevant measures are grouped into seven categories.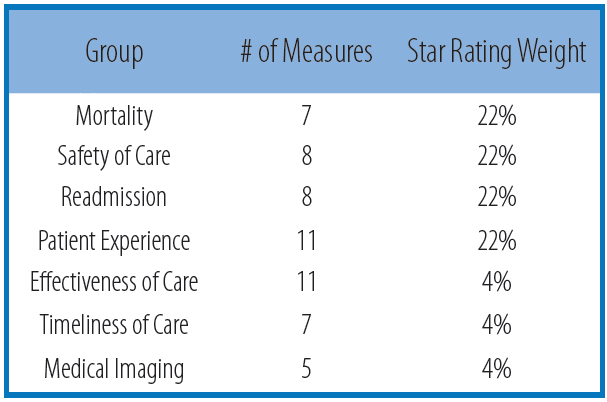 4. Each category is scored, weighted, and combined to create a Summary Score.
Not every hospital reports enough data to generate a score in all seven categories. When that's the case, categories they do report on are weighted heavier to make up the difference.
5. A statistical clustering algorithm called k-means clustering analysis is used to divide the Summary Scores of hospitals nationwide into five groupings "in a way that minimizes the distance between summary scores and their assigned category mean." In other words, the algorithm calculates the "average" score in each category, then assigns each individual hospital to whichever category their score most closely resembles.

6. CMS assigns the hospital a rating from one to five stars based on the hospital's summary score grouping.
CMS assigns star ratings according to a bell curve model. A hospital seeking to predict its rating would need not only its own scores in all 57 measures, but also the scores of every other hospital evaluated under the CMS system, since the scores are assigned on a comparative basis.
Not every hospital evaluated has sufficient data/interactions to submit a score for each of the 57 measures. CMS has to adjust the weight of the measures for which a hospital can supply data to account for any missing categories. In some cases, hospitals which report on fewer individual measures seem to benefit from doing so.
Want to learn more about the controversy surrounding CMS star ratings and the impact of LEP patients and quality language services on hospital performance?
Ready to sign up for service or want to contact us?