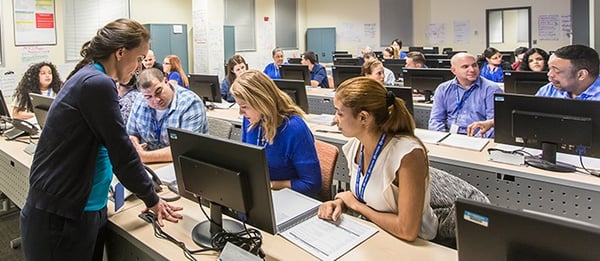 One way CyraCom stands out from other language service providers (LSPs) is through our interpreter recruiting and training model. Many interpretation companies run on an independent contractor 1099 model where there can be discrepancies in each self-employed interpreter's skills and their abilities vary. Plus, interpretation companies are legally prohibited from providing compulsory training to help independent contractors improve.
CyraCom believes there's a better way to provide quality interpretation. We try to hire W2 employee interpreters instead of relying primarily on self-employed, 1099 independent contractors. This means we are lawfully able to train our employee interpreters to our standards and help them continue to improve with ongoing training.
Interpreter recruitment
All our employee interpreters are first vetted, screened, and tested for bilingualism. We recruit interpreter candidates who have received a high-school diploma or equivalent. Then candidates are screened by an interview, a three-part language assessment, and an OIG / GSA exclusion check and E-Verify background check. Because of these high standards, only about 1 out of 10 applicants are selected to participate in CyraCom's Interpreter Training Program.
Interpreter training program
CyraCom's interpreter training program adheres to standards and guidance from:
the National Council on Interpreting in Health Care
the International Medical Interpreters Association
the Certification Commission for Healthcare Interpreters, and more
An outside organization audits us to ensure we continue to meet high standards. CyraCom's operations, including employee interpreter training, conform to the International Organization for Standardization's (ISO) 13611:2014 community interpreting guidelines and are certified under the ISO 9001:2015 standard for Quality Management Systems.
Interpreter training course
We prepare our employee interpreters for first-day competency with our interpreter training program. Dedicated training teams of qualified instructors, training assistants, and interpreter coaches lead our instructor-led training programs.
Healthcare Training Highlight: Interpreters actively participate in hands-on, medical-related learning activities, skits, and breakout sessions with increasing complexity. Healthcare classroom training covers relevant domains found in a hospital setting, such as pediatrics, emergency medicine, trauma, outpatient clinics, medical specialties, and more.
Quality monitoring
CyraCom monitors our employee interpreters to meet high standards and strict regulations. Frequent quality monitoring, on-the-spot follow-up, coaching, and monthly education modules build skills and reward excellence.
Interpreter monitoring methods include checking for:
Interpreting proficiency

Language proficiency

Essential protocols and best practices
Interpreter training matters
CyraCom's training programs offer more than double the training that common industry standards require. This means we can provide high quality interpretation services that help businesses establish clear communication with their limited-English proficient clients.
Looking for additional information?
We can help. Contact us at getstarted@cyracom.com to learn more.