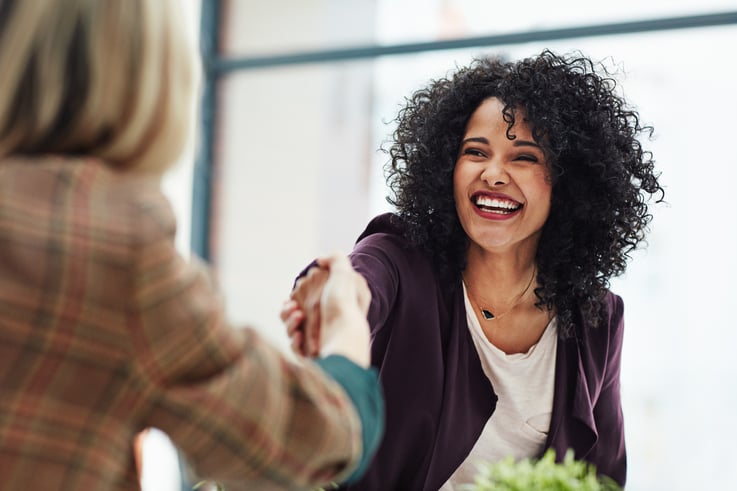 CyraCom stands out among other LSPs in many ways, but we take particular pride in our quality service and customer support. Let's review the tools and support services we provide to our valued clients at no additional charge.
Dedicated team
From implementation to ongoing service, CyraCom offers our clients dedicated support every step of the way. Here are a few of the team members our clients reach out to for help:
Implementation Project Manager & Specialist Team: Our experts ensure an efficient and thorough transition to CyraCom. We work closely with your staff to assess specific language services needs and recommend best-fit solutions.
Account Manager: As your primary point of contact, your dedicated Account Manager connects your team with the tools and strategies you'll need to access our language services. They coordinate staff adoption, consult with key stakeholders, answer questions, and address concerns.
Client Services: Available 24/7, this team helps with support material requests, interpreter commendations/complaints, and resolving or escalating equipment and connectivity issues.
Helpful client portals
Whether clients use CyraCom for our phone or video interpretation or translation and localization services, we've developed digital tools to offer additional support:
Account Management Portal: CyraCom clients appreciate our user-friendly Account Management Portal because that can easily track usage and monitor budget forecasting. Transparent invoices, on-demand reporting, and call analysis tools are just a few clicks away.
Client Support Portal: Helpful documents and resources should be accessible whenever you need them. CyraCom's Client Services Portal supplies our clients with regularly updated language lists, tutorials, instructions, and answers to FAQs all in one place.
Translation Portal: Our one-stop, secure Translation Portal is available 24/7/365. Clients can request, accept, or reject quotes, upload source files, and monitor project progress. We make downloadable legacy translations, invoices, and usage reports accessible at no extra charge.
Customizable support materials
With more than 25 years of experience, CyraCom's experts have helped thousands of organizations execute their language access plans. We provide a plethora of tools to fulfill our clients' needs:
Staff Training Tools: Whether our clients provide in-person or online training, language services become part of the organization's curriculum. CyraCom offers tools to help them achieve staff training goals, including best practice videos and written materials.
Language Identification Charts & Booklets: Clients can display the charts and booklets where their staff first encounters LEP customers or patients. Employees can show the chart to patients and have them point to the language they speak.
Stand-up Posters: This poster provides guests with information regarding the availability of no-cost interpretation services. We recommend displaying them at all entrance points where staff first encounter LEP patients or customers.
Phone Access Cards & Stickers: These tools make it easy for clients to call interpreters by instructing users on how to access an interpreter quickly.
Extras
CyraCom doesn't require our clients to buy specific equipment to access our language services. For clients that want to purchase new or additional phones or accessories, we offer:
Dual Handset Phones
Cordless Phones
CyraCom Flex Elite Video Carts
We're here to help
If you work with another LSP, we encourage you to ask yourself this single question: Am I getting the same value and support from my provider? If not, it may be time to consider a change. Contact our team at getstarted@cyracom.com today for a zero-risk consultation.