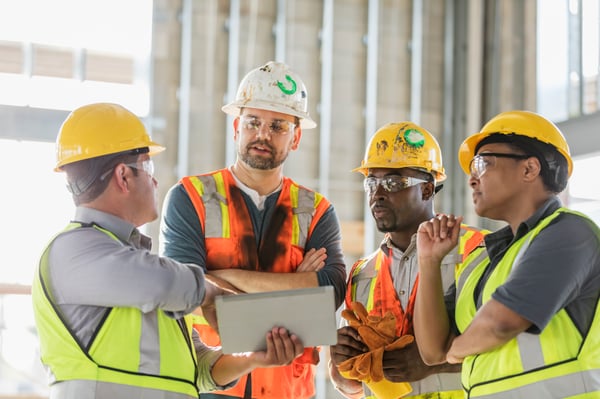 The Occupational Safety and Health Administration (OSHA), backed by the United States Department of Labor, requires employers to provide a safe workplace. It's the employer's responsibility to eliminate and reduce hazards to the fullest extent possible and train their employees to follow processes that will protect them. While safety standards vary by industry, failure to comply with the established OSHA standards can result in hefty fines on top of employee injuries and potential lawsuits.
---
Did you know?

OSHA penalties can exceed $13,000 per violation and as much per day for every day the issue hasn't been fixed by OSHA's deadline.
---
What does this have to do with language services? Beyond the basic standard requirements provided by OSHA, businesses are legally required to train limited-English proficient (LEP) employees (also known as ESL or English as a Second Language), using materials in their primary language. This practice ensures all employees fully comprehend safety measures and processes that help keep them safe on the job.
Types of safety materials to be translated
OSHA standards require that employers must provide training in a manner that employees can understand. Making training content available in their preferred language increases awareness and decreases accidents. Training content may include:
Videos:
Orientation videos
Safety training videos including voiceover, subtitles, or captions
Employee Educational Materials:
PowerPoint presentations
Employee handbooks and manuals
Safety and health policies, goals, and procedures
E-Learning Modules or Lessons:
Course content, including infographics, images, and graphics
Tutorials, online presentations, slideshows, and assessments
Transcription and/or translation of audio scripts
Voiceover with audio localization
Timecoded scripts for subtitles and/or closed captions
Challenges with translating safety materials
When complying with OSHA's standards, there are a few common challenges businesses encounter when translating training documents to other languages:
Cost: Budgeting for training materials can take resources away from other business necessities.
Time: Finding a translation service or using an employee to translate documents, training courses, and other content can take time away from other job functions.
Multiple Languages: Many US employers anticipate a need for English and Spanish but may also need safety materials in additional languages.
Overcoming safety material translation challenges
As a leading language services provider, CyraCom has discussed OSHA-compliant translation with many businesses. We've often heard that employers turn to machine translation or ask an employee to translate safety materials. Choosing these options may save money, but other problems can occur as a result.
Option 1: Internal Translation
For example, suppose you choose to have an internal, bilingual employee translate from English to another language. In this case, you risk mistranslating vital terms as being bilingual doesn't necessarily confer knowledge of technical vocabulary. Time can be an additional challenge. If the employee has other essential tasks to complete, translation projects can take longer to complete. Another issue is translating multiple languages. If you don't have an employee who can translate into every language needed for OSHA compliance, you have to choose another option.
Option 2: Machine Translation
Machine translation is a newer option for employers to consider. It solves the problem of translating safety materials into multiple languages. However, a human editor is often needed to ensure the end product has an accurate translation. Machine translation typically results in word-for-word renditions of the source material rather than meaning-for-meaning. While adding a human editor into the process may help you avoid grammar mistakes, it can add time to the project and additional costs may arise.
Both internal translation and machine translation have one key issue in common—quality.
Best Option:
Using a Language Services Provider such as CyraCom
Using a professional language services provider (LSP) for safety material translation, businesses can receive a higher quality translation in all languages needed. Human translation completed by a subject matter expert is the best way to create safety training material that complies with OSHA standards.
OSHA requires that training material accounts for limitations in vocabulary and comprehension—internal and machine translation often don't factor this element into a project. One of the key benefits of using an LSP is receiving quality translation content from a subject matter expert to ensure that certain literacy levels are met.
As you evaluate different options and providers, it can be tempting to choose the lowest cost option. However, investing in high-quality, accurate translations can help you save time and avoid fines and penalties for noncompliance. Most importantly, quality safety content enables you to protect your most valuable resource—your employees.
If you are interested in receiving a complimentary quote or would like to learn more about our translation services, please contact Jill Smith. Her knowledge and expertise in the industry have proven valuable to many organizations. We can help you maintain OSHA standard requirements for your ESL employees!